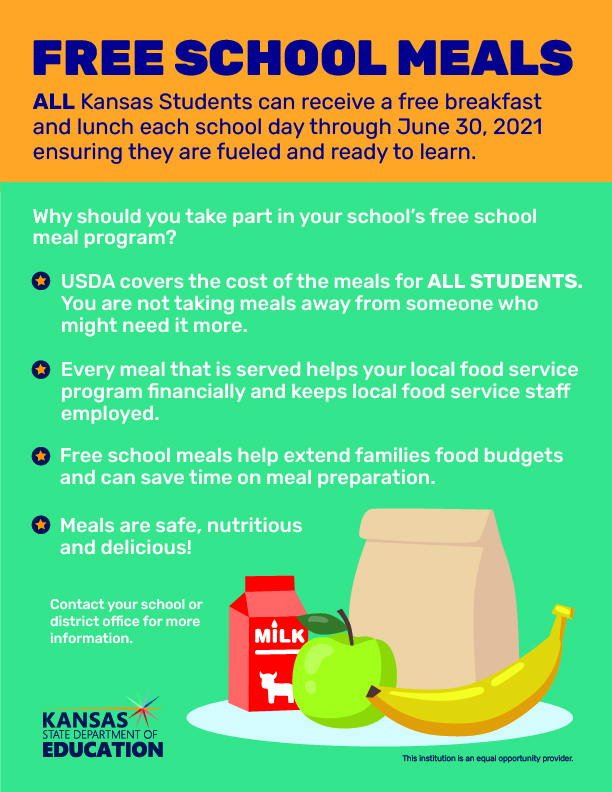 Food Service Reminder: Free Meals Provided by USD 289
Gwendolyn Jacobs
Wednesday, November 04, 2020
A friendly reminder that USD 289 is providing free meals to all enrolled USD 289 students and any child 1-18 years living in Wellsville community regardless of eligibility status. We highly encourage you to participate in this opportunity.
How to participate?
Meals need to be Pre-order for Take Home Meals
· Meals will be provided each day for pick up, but you will need to pre-order for the week.
· Take-home meals can be picked up at Wellsville High School.
· TIME CHANGE: Pick-Up Time: 10:00-11:00am each day, starting Monday, Nov. 9th, 2020
· Please note there will now be ONE option for a meal kit. Lunch A
· Remote Learning Menu can be found here. HERE
Pre-Order: Lunch Pre-Order: Community, Remote Only & Wednesday Remote Learners for ES
Note: Please submit for each individual child. If the student is enrolled in USD 289 be sure to include their Student ID# (can be found in PowerSchool). If the student is not enrolled, be sure to include the first and last name of each child you are submitting for.
One final note: All extra items, including second meals, milk to accompany a lunch brought from home or ala carte available items at the middle and high school, are not included in this program. Students must have sufficient funds available in their food service accounts in order to purchase the extra items or to purchase a second meal.
https://www.kn-eat.org/SNP/SNP_Docs/SNP_Whats_New/Free_School_Meals_Color_Flyer_V2.jpg
https://www.kn-eat.org/SNP/SNP_Docs/SNP_Whats_New/Free_School_Meals_Spanish.jpg