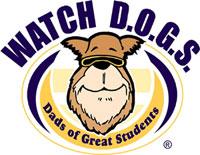 WATCH D.O.G.S. (DAD'S OF GREAT STUDENTS)
Our WatchDOGS program is a K-5 program and invites fathers, grandfathers, uncles, and any other father figure to volunteer for at least one day at their childs school during the school year. WatchDOGS volunteers perform a variety of tasks during their volunteer day including monitoring the school entrance, assisting with unloading and loading of buses and cars, monitoring the lunch room, or helping in the classroom with a teacher's guidance by working with small groups of students on homework, flashcards, or spelling.
If you have any questions regarding our Watch D.O.G.S. program or if you would like to sign up please email Melanie Brungardt at wellsvillewatchdogs@live.com. Use the calendar below to find out what days are available that will work for you.You can also visit the Watch D.O.G.S. website at www.fathers.com/watchdogs to find out more information about the national program.
To learn more on how fathers can make a difference in the lives of their children please explore the following link at the National Center of Fathering at www.fathers.com.